FXOpen Prepaid Voucher creation
How to request FXOpen Prepaid Voucher
To request a withdrawal to a prepaid voucher:
Select Withdraw Funds → FXOpen Prepaid Voucher in the Client Portal menu.




| | |
| --- | --- |
| | Current transaction fees are available on the Fees page. |

Fill in the form:

Amount: Enter the amount you want to withdraw and select

the currency pocket.



Currency: Select the currency in which you want to withdraw.


Confirm the withdrawal in 2 steps:

Click Create Voucher.

Our Finance Department will process your withdrawal request during 1 day. Withdrawal requests placed on weekends will be processed on Monday.

After your request is approved, a prepaid voucher will be generated. All the requested vouchers are shown under the withdrawal form.

If you need further assistance, please contact us using ABOUT US > Contact us details on the official website.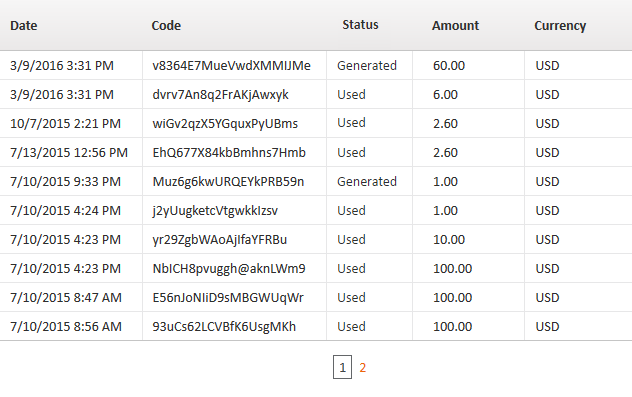 How to cancel a pending request

If your withdrawal request has not yet been processed, you can cancel it.
Click your Main account number on the left of the Client Portal, find the transaction in the Account Operations/History tab and then click Cancel.
How to check the transaction status
Click your Main account number on the left of the Client Portal.
The transaction status is shown on the Account Operations/History tab.
Related Articles

FXOpen Prepaid Voucher

About FXOpen Prepaid Voucher You can make deposits via FXOpen Vouchers. Prepaid Vouchers are generated payment vouchers of any face value. You can request prepaid vouchers in the Client Portal and pass the voucher code to another client of FXOpen. ...

Deposits via Prepaid Cards

About Prepaid Cards You can make deposits via Prepaid Cards. Prepaid Cards are issued as plastic cards or e-records (generated payment codes) with the face value of $1.00, $5.00, $10.00, $25.00, $100.00, $200.00, $300.00, $500.00, $1000.00, $5000.00 ...

Prepaid Card request

Virtual prepaid cards (generated payment codes) can be used for new clients attraction interested in Forex trading and for further deposits. FXOpen issues cards with nominal value of $1, $5, $10, $25, $100, $200, $300, $500, $1000, $5000, $10000. ...

Fees for FXOpen Markets

Payment option Currencies Deposit fee Withdrawal fee Min/ Max deposit Min/ Max withdrawal Online Banking VND, THB, IDR 3.2% 2.5% 10,000 KRW (max 30,000,000 KRW) 100,000 VND (max 300,000,000 VND) 100 THB (max 50,000 THB) 100,000 IDR (max 24,000,000 ...

FXOpen Bonuses

Bonus Amount Account type How to receive Conditions to withdraw/transfer internally No Deposit Bonus No deposit required. Available to Personal eWallet holders. 10 USD ECN TT Register an FXOpen eWallet (Personal). Get Grade 1 verification. Open an ...