How to verify FXOpen UK account


How to verify FXOpen EU account
Verification of Main account is required for deposits through any payment system. Deposits are available for Main account with Grade 2 verification or higher. Learn more about verification grades.
Grade 1: Phone verification
To verify your phone:
On the Main account Verification page in the Client Portal, under Grade 1, enter your phone number and click SMS.

Enter the verification code sent to your phone and click Confirm.

If you don't have a mobile phone or you haven't received an SMS with a confirmation code, you can verify your phone via operator call.
Grade 2: Account verification
Before you start the verification process, prepare all the required documents.
1. Proof of identity (one of the following):
Passport
National ID card
Driving license
Residence permit
2. Proof of residential address (one of the following):
Bank statement
Utility bill
Internet, cable TV or landline bill
Tax return
Council tax bill
Certificate of residence issued by an authorized government body
Valid ID document with your residential address
Step 1: Identity document
Select your country.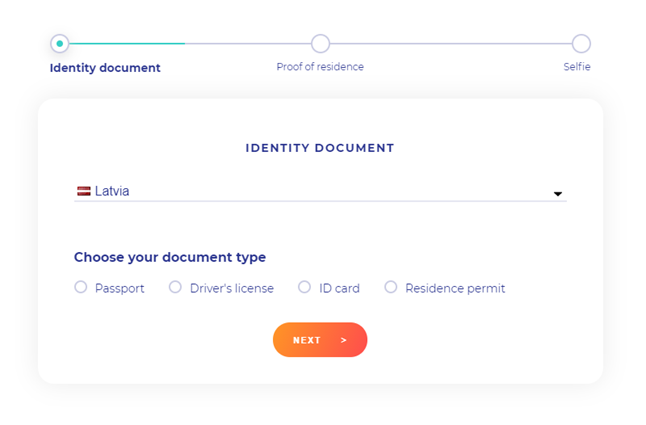 Select the ID type and upload a photo of your document.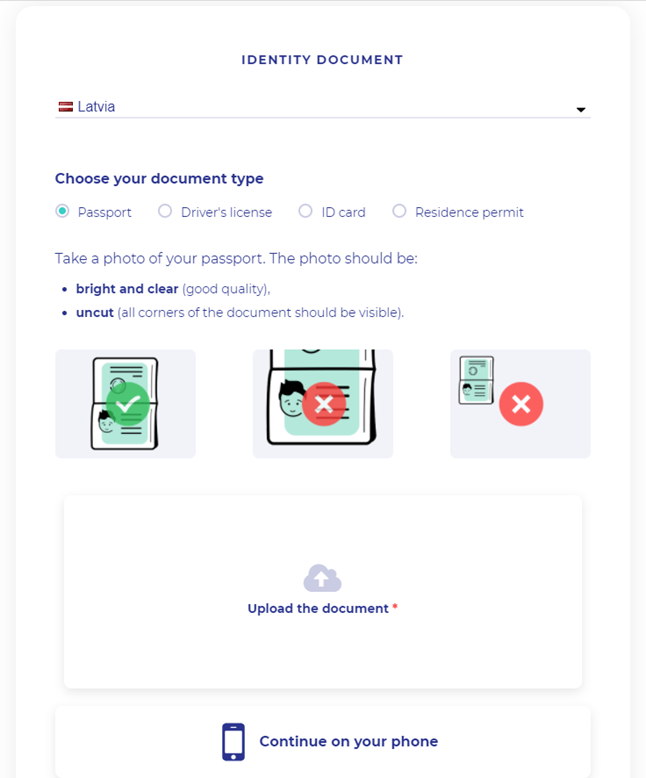 Requirements:
The photo should be bright and clear, and all the edges of the document should be visible.
Upload both sides of the document if it's double-sided.
Make sure there are no highlights or spots in the photo. Low quality images will not be accepted by the system. The file must be in JPG or PDF format, no less than 500 KB.
The document must be valid for at least three months.
Click Next.
Step 2: Proof of residence
Upload a proof of your residential address.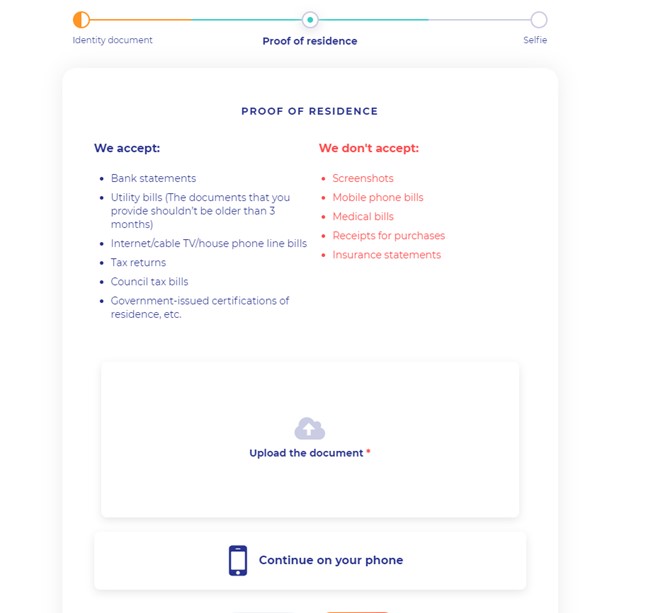 Requirements:
We do not accept screenshots, mobile phone bills, medical bills, credit card statements, receipts for purchases, or insurance statements.
The document must be in Latin characters or have a notarized translation into English.
The document must contain the full name (as stated on the ID), owner's address and date of issue.
The photo should be bright and clear, and all edges of the document should be visible.
A utility bill or bank statement must be issued within the last three (3) months and printed on the official form.
All files must be in JPG or PDF format, more than 100 KB and 300 DPI.
Click Next.
Step 3: Selfie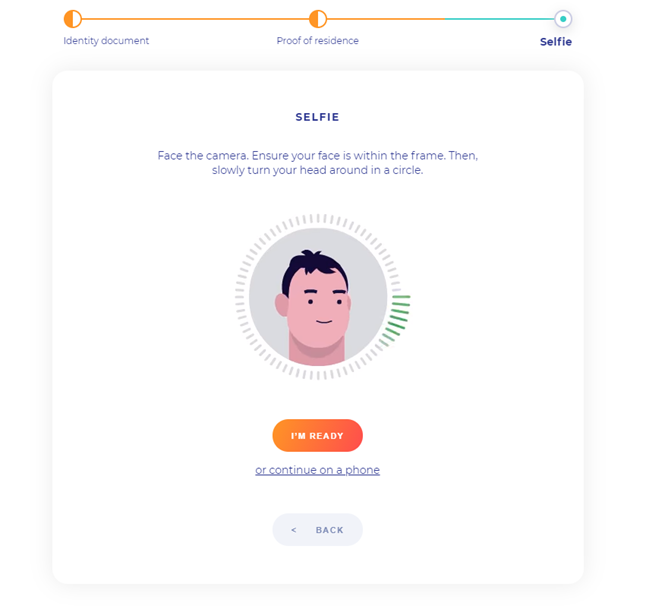 This is the liveness check. Follow the instructions you see on the screen. You can either connect the camera on your computer or do the check on mobile phone.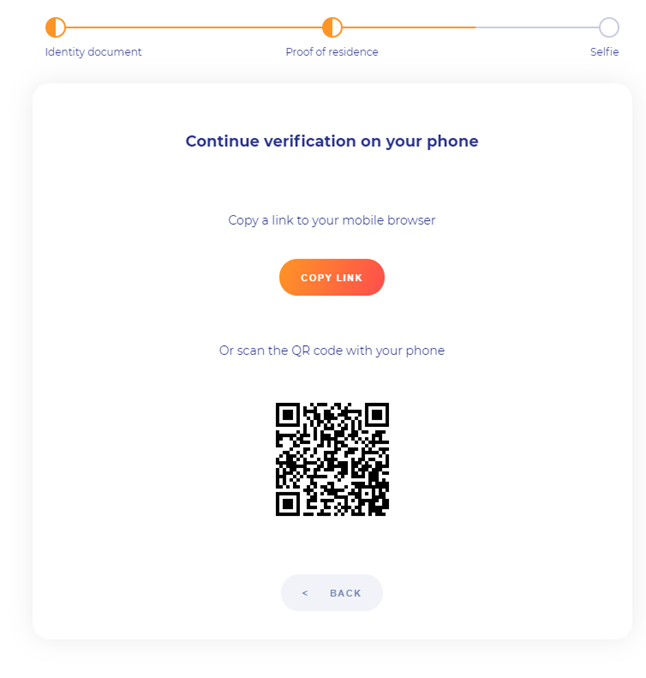 Step 4: Wait for the approval
Your Main account status will change automatically 1 as soon as the review of your application is completed.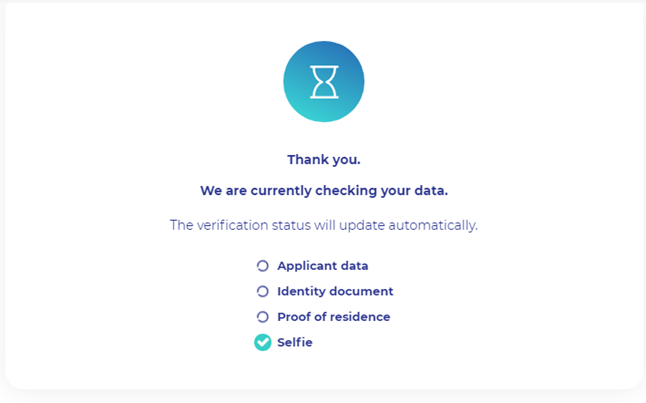 If any of your documents were rejected, please upload new photos of the documents.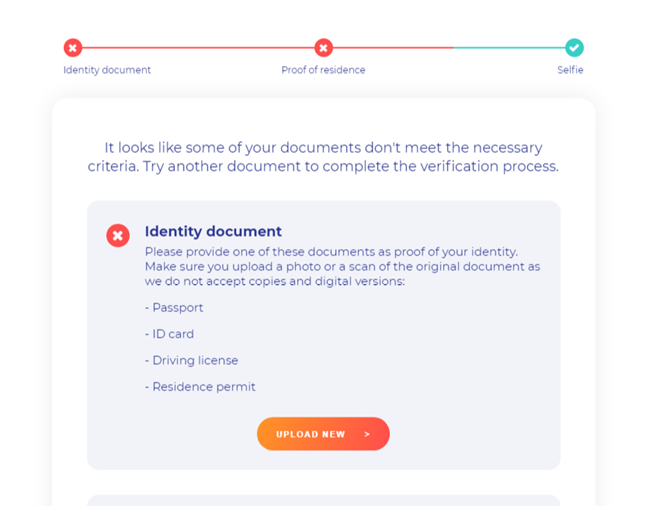 You will also receive an email notification. Click the link in the email to go to the verification page in the Client Portal. There you can see why your document was rejected. Please upload a new photo of the document.

Note: If you have a Joint or Corporate account, please check the list of required documents here.
Having problems verifying your account?
If you have any questions, don't hesitate to contact us:
1 For Grade 2, there are two verification options:
Automatic verification
Manual verification by FXOpen back-office staff
Depending on your country of residence, the system will automatically offer the verification method available for your country.
If automatic verification is not available for your country, you should fill in the form and upload 3 required documents (see the list above).