The User Profile contains general information about the trading account, common settings of the Web Terminal, and the Level 2 panel settings.
To open the User Profile window, click the nickname next to the TickTrader ECN account number.


If you haven't opened an ECN account yet, click Add account. You will be redirected to the Client Portlal. Select Add Account > TickTrader ECN in the menu and fill in the account opening form.

Settings in User Profile:
Account e-mail: Registered email address.
Nickname: The nickname is displayed in Trollbox. To change the nickname, click Edit, enter a new nickname, and then click Edit again.

TT Account Info

TT Account Login/ Name: Trading account login / account name.
TT Account Type: Trading account type.
User Name: User name.
Account Reg. Date: Trading account registration date.
TT Server Name: TickTrader Server name.
TT Server Address: TickTrader Server address.
Last Logins (via Web Terminal): Information about last logins to the trading account via Web Terminal.
Active Sessions: Information about active sessions.
Common Settings

In the Time zone, Date Format and Time Format fields, you can select the time zone, date format and time format of the Web Terminal.
Session timeout: Session timeout period.
Direction of messages in Trollbox: Direction of records in the Trollbox: Up – new messages are shown at the top of the panel, Down – new messages are shown at the bottom of the panel.
Show orders on chart: Select this option to display order lines on the chart.
Show Last Trades panel: Show or hide the Last Trades panel.
Site Theme: Site color scheme: dark or light.
Level2 Settings

To change the settings of the Level 2 panel, click

.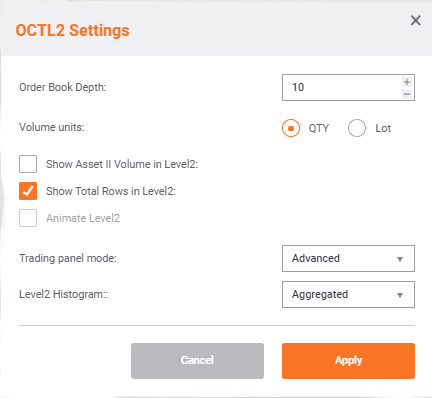 Order book depth: Number of price levels in the order book.
Volume units: Volume units: QTY (number of asset units) or LOTS.
Show Asset II volume in L2: Show or hide the volume of the second asset in L2.
Show total rows in L2: Show or hide the average price and total volume for Buy and Sell orders.
Animate Level2: Enable or disable the animation of price levels.
Trading panel mode: Display mode of the trading panel: Simple, Advanced, or None.
Level2 histogram: The histogram shows Buy/Sell volumes and prices updated in real time.

Aggregated: Aggregated data on volume and price.
Not aggregated: Non-aggregated data.
None: The histogram is hidden.