| | |
| --- | --- |
| | The screens in this article are based on the Android operating system. iOS screens may differ slightly. |
Tap Indicators in the Chart menu. In Indicator Settings, you can add and delete indicators, and change indicator settings.
Technical Indicators are a result of mathematical calculations based on the values of price and/or volume. You can use indicators to analyze market trends and predict price changes.
To add an indicator to the chart, select the check box, and then tap Save.
Depending on their functions, indicators are divided into the following groups:
Trend Indicators help visualize current trends in the market. They reflect 3 trends in the movement of prices: Up moves, Down moves, and Sideways price moves.

Oscillators are technical indicators that are used to analyze the market situation, especially when the market is not showing any definite trend. They help to determine the extremes of market prices and short-term overbought and oversold market conditions.
Volumes confirm the strength of a trend or indicate its weakness for any specific period of time.

Indicators by Bill Williams are developed by a professional trader Bill Williams within his well-known trading system.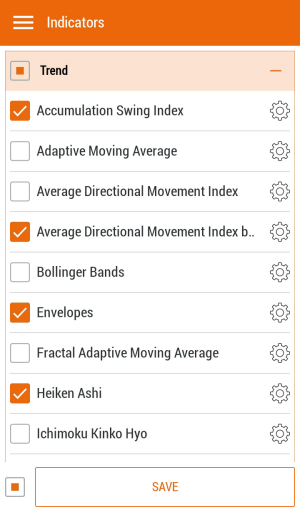 How are indicators displayed?

When you add indicators, this affects how the chart is displayed. Depending on the type of indicator you select, it can be displayed in the chart area (internal type) or in the additional field below the chart (external type). This allows you to use several indicators on one chart, which helps to predict the price trend more accurately.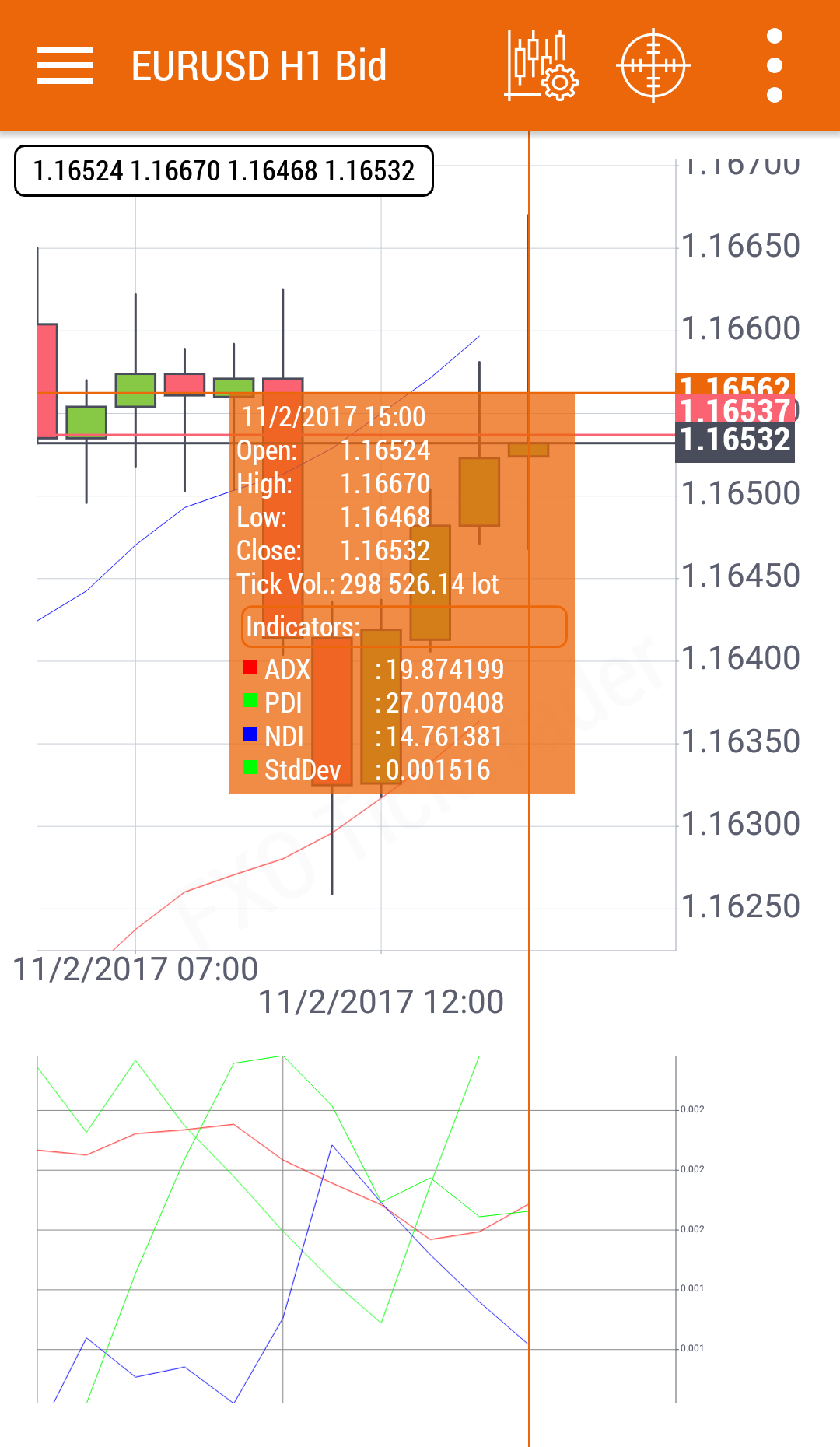 Note: To view the indicator data at a specific point in time, tap

, tap the chart element of interest, and then tap Indicators.
Indicator settings

To go to Indicator Settings, tap Indicators in the Chart menu. Indicator parameters may vary depending on the type of indicator.
To change the indicator parameters, select the indicator using the check box, and then tap

.
Following are the settings that are common for all indicators:
Type: Indicators can be displayed in the chart area (internal indicator) or in a separate area under the chart (external indicator).
Colors: Color settings of the indicator.
Apply to: Apply the indicator to one of the chart parameters (Open, High, Low, Close price).
Reset Settings: Reset all indicator settings to their default values.
Other parameters may vary depending on the type of indicator.