Funds transfers between eWallet currency subpockets
To transfer funds from one currency subpocket to another, select Transfer → Currency Exchange in the Client Portal menu:
The funds will be converted within a few seconds.
If you use the currency for the first time, a new currency subpocket will be added to your FXOpen eWallet.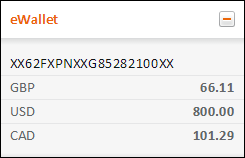 Related Articles

Withdrawals via multi-currency eWallet

You can withdraw funds from all your currency pockets of FXOpen eWallet. The withdrawal currency depends on the payment option that you choose. So that, if the currency of the withdrawal does not correspond the currency pocket from which you want ...

About FXOpen eWallet

What is FXOpen eWallet eWallet is your main account with FXOpen. How to register an eWallet To register an eWallet, fill in the registration form. Learn more about eWallet registration. Note: eWallet is not a trading account. To open a trading ...

Instant Bank Transfers for Thailand

To make a deposit via Instant Bank Transfers: Select Add Funds → Instant Bank Transfers in the Client Portal. Select: country (Thailand); deposit currency (THB); payment method (Online Banking, P2P, QR code)*. *The list of available methods may ...

Instant Bank Transfers notice

How to place a notice about the payment? If you made a deposit via Instant bank Transfer, but the funds were not credited to your FXOpen account, please use the payment notification form. Select Add Funds → Instant Bank Transfers in in the Client ...

Deposits via FXOpen eWallet

When you open the eWallet, it has one currency subpocket. You can add additional currency pockets via making a deposit. To make a deposit: Select the payment option in the Client Portal menu. Select the deposit currency. Select the currency pocket. ...