FXOpen would like to inform you that the recent MT4 Build 600 and subsequent versions upgrade resulted in some important changes to the terminal.
First of all in order to ensure the safety the data structure has been changed - now all additional MT4 files are stored in the terminal data folder at C:\Users\User_account_name\AppData\Roaming\MetaQuotes\Terminal\Instance_id where:
С: – name of system disk
User_account_name – user's Windows account
Instance_id – unique name of the folder for the user's data for a certain copy of MetaTrader 4 (consists of 16 characters)
For the quick access to the data folder click menu File → Open Data Folder in MT4 terminal or in MetaEditor.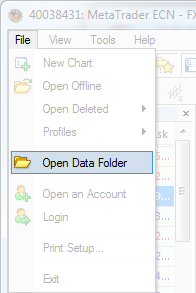 With the upgrade to the new version the files are copied in the terminal data folder. Please notice that subfolders and files contained in subfolders are not copied automatically but can only be transferred manually.
The files are stored in the following folders:
\MQL4\Experts — Expert Advisors (trading robots);
\MQL4\Indicators — Custom indicators;
\MQL4\Scripts — Scripts (MQL4 applications for a single run on the chart);
\MQL4\Libraries — Libraries in the form of MQ4 source codes and EX4 executable files compiled from them. They are used for the dynamic call of the functions contained there by other MQL4 programs;
\MQL4\Images — Image files for being used in resources;
\MQL4\Files — Special "file sandbox". MQL4 applications are allowed to execute file operations only within this directory;
\MQL4\Include — Source code MQH and MQ4 files implemented into other programs;
\MQL4\Logs — Log files of MQL4 applications;
\MQL4\Presets — Files of presets for MQL4 applications.
Also the MQL4 language has also been modified in this latest build. All old EX4 files are supported and should work in the new MetaTrader 4 terminal. But we recommend you to test EAs and other custom files in demo environment first.
Should you have any questions, please contact FXOpen Support service.