| | |
| --- | --- |
| | The screens in this article are based on the Android operating system. iOS screens may differ slightly. |
The Accounts screen allows you to manage all your accounts registered and accessed with the application.
The account you are currently logged in to is displayed at the top of the screen. Inactive trading accounts that were used in the application earlier are displayed below. If you are not logged in to any trading account, you will see the No active account message. If you don't have any open accounts, tap Open Account.
On the Accounts screen, you can perform the following actions with accounts:
Tapping the active account opens the Balance screen.
Account management

To manage account data, tap More

(Android) or swipe left on the account (iOS).
Edit account: Modify account details. Enter the password and security code, and then click Log in. (This setting depends on the trading server.)

Change password. To change the password, enter the old and new password, confirm the new password, and then click Modify.
Personal Info. Here you can edit your personal information.
Click Next to go to the following options:
Account Logins and Web API tokens. You can validate account and token details, change their access rights, the password for read-only login, or the authentication type of Web API tokens. You can delete read-only login and Web API tokens.
Generate new 2FA key. Generate a QR code and secret key for logging into account.
Create new Login. Create a new login for the trading account and specify access rights.
Create new Web API Token. Create new Web API tokens for the account.

Remove account: Remove the account from the device. For the currently active account, you will be logged out and the account will be simultaneously deleted from the device.

Remove stored account password: Remove stored account password from the device. Alternatively, you can tap and hold the account to perform this action.
Connection status of the widgets that you added to a home screen is displayed for each trading account.
To change the connection status, tap

.
Go offline / Switch to online mode: Switch to offline or online mode.
Logout: Log out from the account.
Connect: Connect to the account.
Learn more about widgets.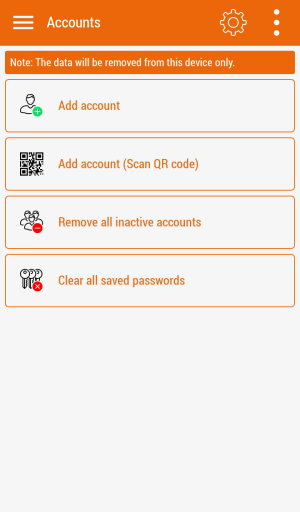 Tap

to access additional commands of the Accounts menu:
Add account: Register a new account or log in to an existing one. If you select this option, you will be redirected to the Login screen.
Add account (Scan QR code): Add account by scanning the previously generated QR code.
Remove all inactive accounts: Remove all inactive accounts from the device.
Clear all saved passwords: Clear all saved account passwords from the device.